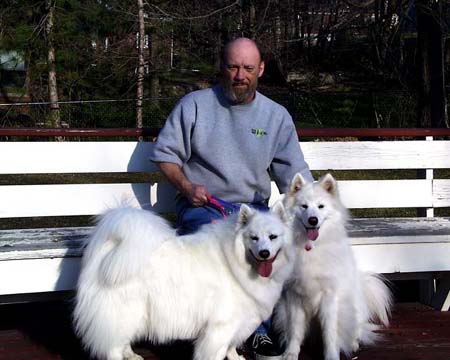 Keisha (sitting) and Kelly (standing) with Hap, their new owner.


Young Keisha found herself in the Neenah shelter - twice - but lucky for her, she was spotted by Rottie Rescue and pulled. Even her 2 day foster mom fell madly in love with her. The day after the milleneum began, Hap and Karen brought her to their home to foster, but fortunately for Keisha, Hap and Karen, and Kelly, the other samoyed, she took up permanent residence.

Keisha must have had a special role to fulfill by coming into Hap and Karen's life because on June 3, 2000, Kelly passed on her angel wings to Keisha when her loyal heart gave out. Keisha now has some big shoes to fill, but she learned a lifetime of love from Kelly and has been a special source of comfort for Hap and Karen in this difficult time.
---